Mechanical 2D CAD Drafting Services
If you are developing a concept, need assistance with mechanical drawings or just need help in converting 3D-formatted manufacturing drawings to 2D; Eng-Source can help out. Click here to get a free quote from our engineering team. Our mechanical engineers have a broad range of experience in all types of 2D detailing, drawings, drafting, and design services.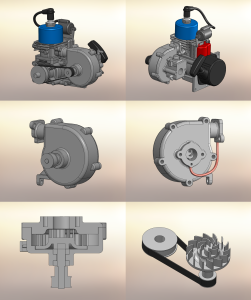 Why Eng-Source?
Outsourcing your drafting services to us has a number of unmatched benefits. First, you can lower the cost by up to 60% for drafting, design, and engineering work. Just imagine the money your company can save by outsourcing to us, money that can further expand your profits or benefit your other projects. Second, our services are fast and reliable. Our experience, expertise, and great understanding of product design and manufacturing will make us deliver what exactly you want, when you want it. And third, we assure you that a team of global expert workers with backgrounds of serving satisfied clients worldwide will handle the work for you, providing you with excellent quality of results.
Affordable, fast, and quality service. These are Eng-Source's edges over our competitors and exactly the reasons why you need to go to us when it comes to drafting and design services.
Client Solutions
Eng-Source offers three service options for meeting your drafting, design and engineering needs within your business. Choose what best fits your company's needs, and then we can start the ball rolling.
Assignment-based or project-based solutions are discussed on a project value-basis and also for specific projects with a well defined scope.
With the time-allocated solutions, you can buy equivalent blocks of engineering time ranging from as little as 40 hours to 1/4 person or multiple full time staff.
You will be given one year to utilize your purchased time which can be applied to any of the Eng-Source professionals with the specialty altered as required.
The fastest and extremely cost-effective option. For small assignment or project specific solutions, we offer CAD Crowd a self-managed system that will let you state what you want to pay for your project and will allow a pool thousands of professionals to furnish proposals.
Contact Us
We want to share with you our remarkable track record, broad range of expertise, and efficient client-specific assistance when it comes to mechanical 2D drafting and design services. Let us aid you jumpstart your projects and help your business through our competent drawings and drafts and our flexible client-based solutions.
You can check our exceptional team of experts' portfolio and let it speak for our service. And contact us at 1-877-880-8850 or fill out this form to get a free quote for your 2D drafting design service.